A Kashmiri saree doesn't fail to exude elegance, charm, and luxury. The wearer as well as the spectators never cease to acknowledge and fathom the beauty created by the artisans of Kashmir. Kashmiri craftsmen excel in creating myriad forms of artwork such as Aari jaal embroidery, Tilla work, Kani work, and more to exhibit design excellence and cultural significance.
If you are looking forward to surprising the world with this captivating artistry and an amazing choice of exclusive fabric, then it becomes essential to know more about it. Here we list trending Kashmiri Embroidered Sarees, available in a range of beautiful colors.
Kashmiri Embroidered Sarees
Kashmiri work sarees have been able to attract the attention of women from around the world for ages. These garments have fantasized not just Indians but admirers from the corners of Asia and the West too. The best part about these sarees is not just the delicate and intricate work it showcases, but the variety of embroidery it offers.
Let us know about the range of Kashmiri Sarees you must consider including in your closet.
Kashmiri Aari work Saree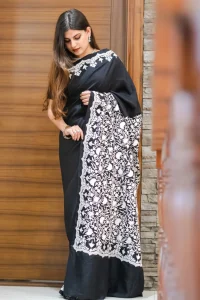 Aari embroidery is a brilliant example of superior craftsmanship. One of the oldest and the most popular forms of embroidery, Kashmiri Aari work has a big fan following. The Aari embroidery originated in the 12th century when Mughals were presented with floral motifs and other traditional designs. This magnificent work was soon popularized all over the nation. Aari work is done on a wide range of fabrics such as velvet, linen, wool, silk, etc.
Aari embroidery is a peep into Kashmiri culture and landscape. This awe-inspiring work is performed using a pen-like needle. Best known for its refined threadwork, this artwork intensifies hand embroidery. Usually blended with floral motifs, the latest saree designs in Aari are infused with other marvelous forms of artwork too such as Gota and Dabka work to accentuate the beauty of the fabric.
To accentuate the excellence of the Kashmiri Saree, Chinaar Jaal pattern is skilfully embedded with Aari work. Aari work coupled with Chinaar Jaal pattern never fails to heighten the personality of the wearer.
Tilla work Saree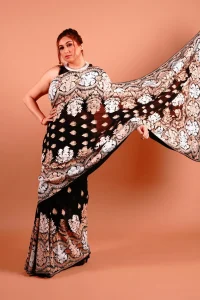 Have you ever had a chance to surprise the crowd with this stately and exquisite garment draped on you? Tilla, the traditional craft of Kashmir, has been used to ornate a variety of garments such as sarees, shawls, pherans, and Kashmiri bride's trousseau. This type of embroidery involves the use of gold and silver metallic thread. The artisans adorn the fabric in unique Tilla patterns to leave shoppers worldwide in awe!
To introduce yourself to a specimen of perfection, have a look at the Maroon Gold Tilla Saree from Angad Creations.
Kani work Saree
One of the centuries-old artworks exhibited by the proficient craftsmen of Kashmir is Kani weaving. Kani hand-weaving is considered a superior form of craft that creates delicate and elaborate designs with extreme care and knack. This work was inspired by the picturesque ambiance and eternal beauty of Kashmir. The craft has been passed from generation to generation, and the weavers of today have started experimenting with a plethora of exemplary designs to augment the finesse even more.
Statement pieces such as the red with yellow border modal Kani saree, Pine Green Modal Kaani Saree, and Black Modal Silk Kani Saree with Indian Tribal Figures Pallu Design can be some of the finest picks.
Women who wish to depict their undeterred belief in culture and also sport a quintessential look can aim to wear Kashmiri Embroidered Saree. Chinar Jaal Embroidered Kashmiri Saree with a fusion of Kashmiri Aari and Tilla, in Grey shade with Turquoise and Silver embroidery, offered by Angad Creations is an apotheosis of style and vogue! Explore a vast range of Designer Saree Online including Kani, Sozni, Aari, Tilla, and fusion work too!